Georgia Academy for Economic Development Announces: The Essentials Participants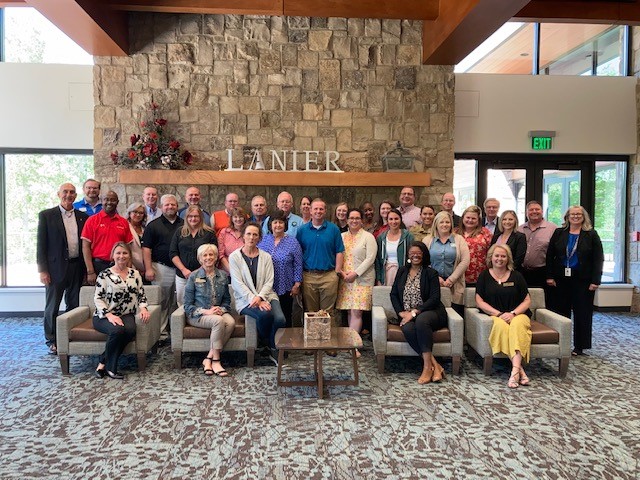 GAINESVILLE, Ga. – The Board of the Georgia Academy for Economic Development announces recent participants from the April 27, 2022 The Essentials program held in Gainesville. Participants were community and economic development professionals, elected officials, public servants, business leaders, educators, and engaged citizens from across Georgia. The Essentials provided attendees an opportunity to gain a unique understanding of the complexities of economic and community development on the local, regional, and state levels.

Created in 1993, the Academy assembles a cross-section of experts, research-based curriculum and resources necessary for building a vibrant economy. The Board of Directors of the Academy represent public and private economic development organizations and agencies across Georgia. Georgia EMC and Georgia Power provide facilitators for the program on behalf of their members and stakeholders. The Georgia Department of Community Affairs provides staff and resources to execute the program statewide. Since its inception, the Academy has provided training for thousands of Georgians.

For more information on the Georgia Academy for Economic Development: The Essentials visit www.GeorgiaAcademy.org

April 27, 2022 Georgia Academy for Economic Development: The Essentials participants included:

Michael Crump, Franklin County
Sandra Deal, Hart County
Barbara Busby, Hart County
Karen Robertson, Morgan County
Andrew Palmer, Barrow County
Jennifer Shea, Oconee County
John Usry, Greene County
Marvin Nunnally, Oconee County
Otis Pettitt, Hall County
Lindsey Fitzgerald, Habersham
Kerri Carson, Lumpkin County
Steven Harper, Towns County
William Illg, Dawson County
Terri Partain, Hart County
Patrick Goran, Hart County
Adam Hazell, Hall County
Kayla Ellis, White County
Todd Marks, White County
Ashley Russell, Hall County
Leslie Foster, Habersham County
Paul Sewell, Hart County
Hilda Garrison, Jackson County
Gary Coates, Dawson County
Laura Boswell, Banks County
Cherilyn Zellner, Laurens County
Rosanna Cruz-Bibb, Jackson County
Michael Yarbrough, White County
Lacy Turner, White County
Breann Ankenman, White County
Kimberly Cook, Habersham County
Annie Wallace, Franklin County
Rachel Howington, Franklin County