Satellite Industries Expands in Lumpkin County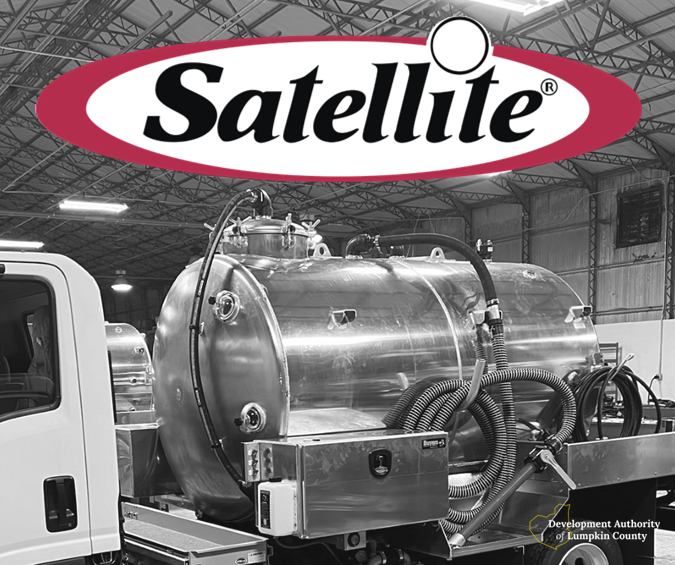 DAHLONEGA, Ga. – Satellite Industries recently announced the expansion of the Trucks Upfitting Division to an additional 10,000 sf facility on McDonald Road in Lumpkin County. The new location created six additional jobs in Lumpkin County, with the potential of more in the future as the Division grows.
"We are excited about the expansion of the Truck Division with Satellite Industries," said Development Authority of Lumpkin County Chairman Henry Davis. "Our community has been a source of Portable Sanitation Equipment for over 40 years and Satellite's growth and commitment to Lumpkin County will continue to provide jobs for our community for years to come."
The Trucks Upfitting Division is in direct support of Satellite's Vacuum Trucks. After tanks are fabricated at the main Satellite Industry location on Crafton Drive, the tanks are transported to McDonald Road to be installed on a truck. The final products range in size from 300-gallon slide-in modules to 2,150-gallon tanks. For the septic industry, Satellite Vacuum Trucks also supplies tanks ranging from 2,500 to 7,000 gallons.
"Most people would probably agree that improving people's lives and preserving the environment are very worthy goals," said Satellite Industries CEO Todd Hilde. "If both of these objectives can be achieved at once, it's even better. That's exactly the value proposition we offer in the portable restroom industry."
Satellite Industries is the world's largest supplier of products to the portable restroom industry, which include restrooms, mobile trailers, trucks, and deodorizers. Satellite Industries has approximately 65 additional employees at the Crafton Drive location, doing restroom assembly and distribution, tank fabrication, and trailer fabrication/assembly.
For more information visit: https://www.satelliteindustries.com/trucks/