$20.7 Million Fiber-Broadband Project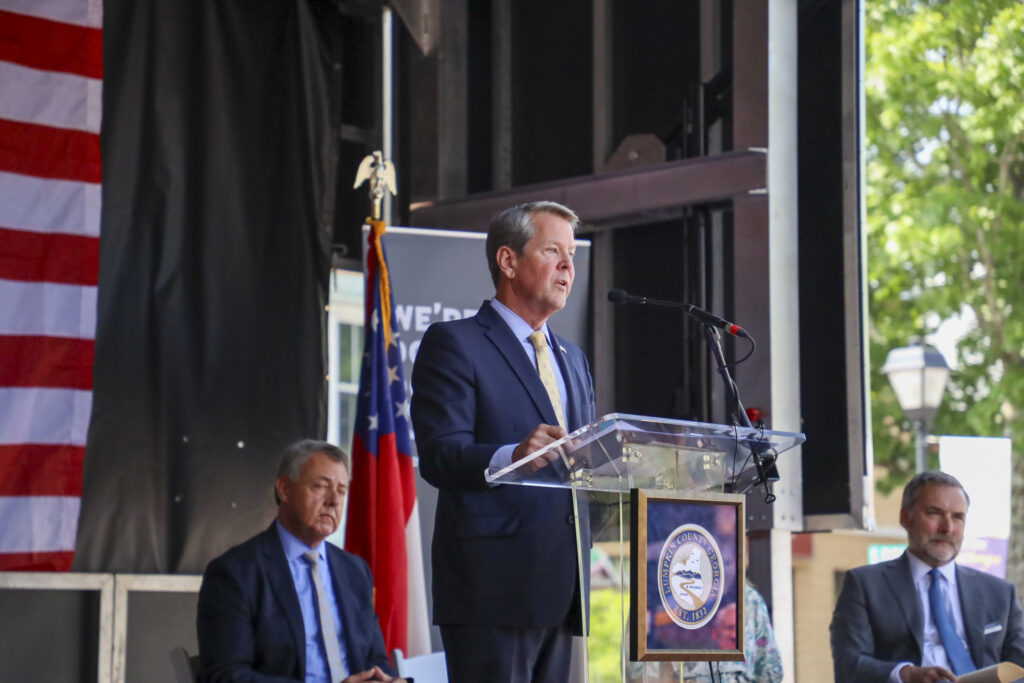 DAHLONEGA, Ga. (June 30, 2023) — Gov. Brian Kemp, state and local government officials, and internet provider Kinetic announced 8,200 homes, businesses, and community institutions in unserved and underserved parts of Lumpkin County will, for the first time, be eligible for high-speed fiber internet at a ribbon cutting event held in Lumpkin County.
The infrastructure project is a result of a public–private partnership between Lumpkin County Government, the Development Authority of Lumpkin County, and Kinetic.
Kinetic's financial match of approximately $13.4 million and the extensive project scope made it possible for the Development Authority of Lumpkin County and Lumpkin County Government to obtain an additional $7.3 million in state and federal grants from the U.S. Department of Commerce's National Telecommunications and Information Administration and the state of Georgia's Coronavirus State and Local Fiscal Recovery Funds.
The $20.7 million project will enable Kinetic to lay more than 450 miles of optical fiber cable and is expected to be completed next year.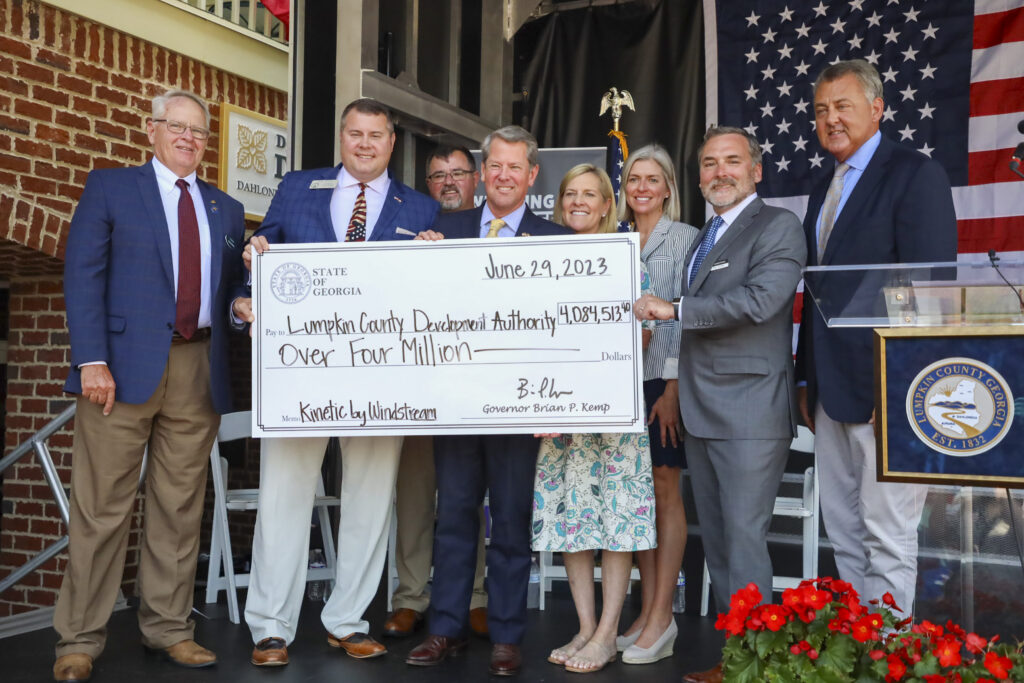 Kemp said, reliable high-speed internet is "an essential tool" that has been lacking in much of rural Georgia. "That's why we've been so focused on this kind of infrastructure, both for our employers but also for our hard-working people."
Speaking at Thursday's event announcing the project, Kemp thanked the people of Windstream for "fulfilling their commitment" to bring fast, reliable fiber broadband to Lumpkin County and other rural communities "literally all over the state."
"People want this so bad, and they're so excited when it's actually happening in their community," he said.
State Senate Majority Leader Steve Gooch, R-Dahlonega, said: "I am very happy for the people who live and work in Lumpkin County. Access to rural broadband is essential, and I am very appreciative of Governor Kemp and his staff's support to make this project a reality. Our children need it for online learning, our farmers and small businesses need it to run their operations, industries need it to grow, and our residents need it for telemedicine, grocery shopping, and to stay connected with the community."
Lumpkin County Board of Commissioners Chairman Chris Dockery said: "High-speed internet is a key part of our plan to build a better Lumpkin County. That's why we made the investment. Fiber broadband is the best there is. It will help Georgians in our great county stay connected with school, healthcare services, and family. It's also critical to the success of our county's economy and to future job creation."
Development Authority of Lumpkin County Board of Directors Chairman Henry Davis thanked Kinetic "for being an outstanding community partner and for working diligently to make this broadband expansion happen."
"We appreciate the state supporting Kinetic's partnership with the county and investing in the future of our community," Davis said.
"This broadband expansion will greatly enhance Lumpkin County's telecommunications infrastructure," he said. "We understand that high-speed internet is critical for all of our business, manufacturing, healthcare and education industries and institutions. Kinetic's new fiber will strengthen our county's economic development efforts and help us to attract jobs for the 21st century economy."
Kinetic's ultrafast fiber optic broadband lets users upload and download at up to 1 gigabit a second, or 1,000 megabits a second, providing what is known as "next-generation access."
"The people in Dahlonega, Garland, Auraria, Nimblewill, and so many more communities will soon no longer be underserved and unserved," Kinetic Georgia operations President Michael Foor said.
"We at Kinetic are thrilled to bring our ultrafast, reliable fiber connectivity and best-in-class internet experience to homes, businesses and schools here in Lumpkin County," he said. "This important county deserves exceptional internet — high-speed fiber broadband that will meet the county's evolving demands for business, educational, and personal use."
Households and businesses may visit GoKinetic.com to find out if they are eligible for a speed upgrade. They can also visit or call the Kinetic Connection Center retail store at Goldmine Village, 340 Walmart Way in Dahlonega, 706-867-3333.