Lumpkin County Employee Spotlight
DAHLONEGA, Ga. – Kerri Carson started with the Development Authority of Lumpkin County in 2021. Beginning as the Authority's Administrative Assistant her role quickly evolved and she now serves as the Authority's Marketing & Communication Manager. If you follow the Development Authority on social media, you have seen Kerri's social media campaigns, press releases, special events, and quarterly newsletters!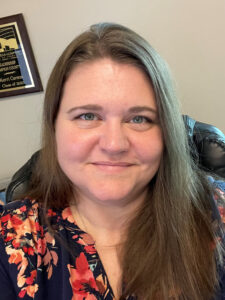 Kerri is a graduate of the DLCCC Leadership Lumpkin, the GA DCA's Georgia Academy for Economic Development, and is currently completing the Georgia Certified Economic Development program. She and her husband live in Lumpkin County and their two children attend Lumpkin County Schools….Go Indians! Thank you to Kerri for all her efforts to enrich local employment, the county tax base, and business opportunity while honoring the history, natural beauty, and character of Lumpkin County.